Blog
How to hunt rabbits without a gun
Last Updated on December 22, 2022 by Albert Smith
Are you a new hunter looking for an alternative to using a gun? Do you want to learn how to hunt rabbits without the noise of a firearm? Are you looking for sustainable, humane ways to hunt? If the answer is yes, then this blog post is for you! Hunting without a gun can be challenging, but it's also incredibly rewarding. In this blog post we'll show you how to hunt rabbits without a gun – and help ensure your success in the process.
Locate the Rabbit's Hideout
Finding the right place to hunt rabbits is the first step in successful rabbit hunting. Rabbits tend to hide in thickets, hedgerows, and other vegetation where they can find cover. They also like to hide in hollow logs, under brush piles, and along fence rows. Spend some time scouting likely spots and use binoculars to look for rabbits. Once you have located the rabbits, you can plan your approach accordingly.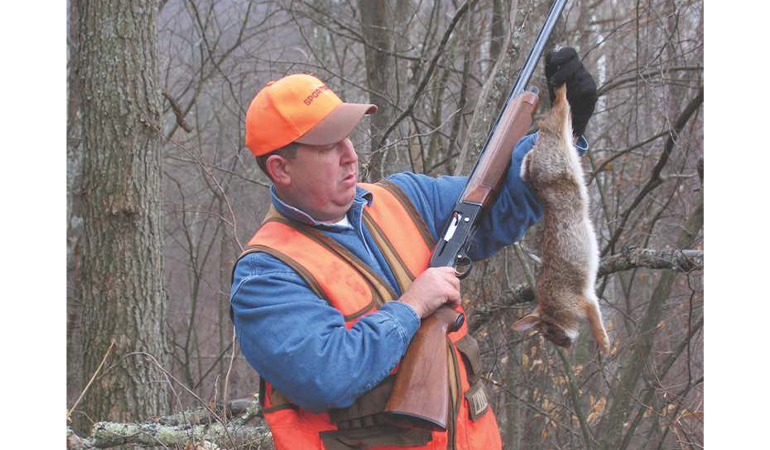 Use a Small Dog for Tracking Rabbits
Using a small tracking dog is an effective way to hunt rabbits without a gun. Small dogs can be trained to follow rabbit scent and flush them out of their hiding spots. This method requires both patience and skill, as the hunter must not only be able to track the direction of the scent but also move quickly enough to spot and capture the rabbit. It is important to note that this method is illegal in some areas, so it is important to familiarize yourself with your local hunting regulations before employing this hunting technique.
Choose the Right Time of Day to Hunt Rabbits
When it comes to hunting rabbits, timing is everything. Rabbits are most active at dawn and dusk, so those are the ideal times to start your hunt. You'll want to look for signs of activity, such as fresh droppings or tracks in the dirt. If you're hunting in an area with tall grass, look for areas that have been matted down – this could be a sign that a rabbit has been there recently. Rabbits tend to frequent the same areas every day, so once you find an active spot, you can plan your hunt for the next day. It's also important to note that rabbits are sensitive to human scent, so you may want to avoid hunting in the same spot every day. Instead, move around and look for new spots where rabbits may be hiding.
Make Use of a Rabbit Call
Calling rabbits can be a great way to attract them to you if you're hunting without a gun. Rabbit calls come in many different shapes and sizes, from traditional mouth-blown calls to electronic calls. When you're using a rabbit call, keep your movements slow and steady. Make sure to give the rabbits enough time to respond to your call before moving on. It's also important to vary your call periodically to keep the rabbits interested. You can also use a decoy or lure to help draw rabbits into the open. Decoys and lures can be used with or without a call, depending on the situation. With practice, rabbit calling can be a great way to attract them for a successful hunt.
Use Nets, Snares and Traps
Hunting rabbits without a gun doesn't mean you can't use technology to your advantage. Nets, snares, and traps are all effective ways of capturing rabbits. Nets require you to be quick and accurate when throwing, so practice is needed ahead of time. Snares are a good solution for those who have limited mobility, as the rabbits will be caught in the snare when they wander into it. Traps need to be placed carefully and baited if necessary to ensure the rabbits will be lured in. All three of these methods require patience and practice, but they can be an effective way to capture rabbits without the use of a gun.
Conceal Yourself from the Rabbits
When hunting rabbits without a gun, it is essential to remain concealed from the prey. Rabbits have excellent vision and hearing, so it is important to remain as quiet as possible and to stay out of sight. Wear camouflage clothing that matches the natural environment, or consider using a hide or blind if you are hunting in an open area. The goal is to avoid being spotted by the rabbit, and remaining undetected can be key to a successful hunt.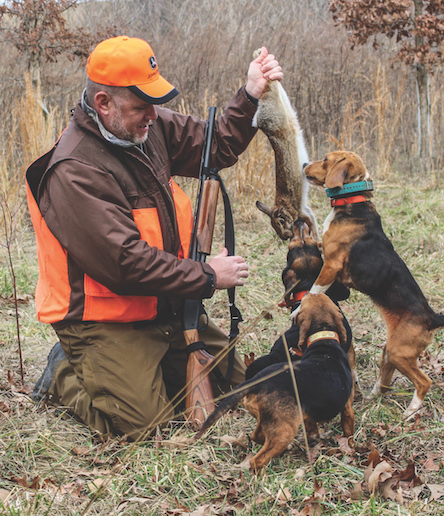 Employ Hunting Dogs to Flush Out Rabbits
Hunting with dogs is a popular and effective way to hunt rabbits. Dogs, such as beagles, are trained to track and flush out rabbits by scent. The hunters then shoot the rabbits as they are flushed out of their hiding places. This method of hunting requires a team of hunters, each with their own dog, and it is important to have good communication between the hunters, so that everyone is aware of where the rabbits are located. It is also important to make sure that the dogs are well-trained and obedient, as they can quickly become distracted when chasing after a rabbit. Furthermore, it is important to have a good understanding of the local hunting regulations regarding hunting with dogs, as this type of hunt may not be legal in all areas.
Carry an Appropriate Weapon for Hunting Rabbits
Hunting rabbits without a gun can be daunting, but it is not impossible. There are several weapons and tools that you can use to hunt rabbits without the need for a gun. Thrown implements, such as a rock or spear, can work well for hunting rabbits, but they require a certain level of skill and range. You can also use a hunting rifle of the appropriate size and style to take down rabbits. For those who want to take their rabbit hunting up a notch, a 20-gauge shotgun with an improved cylinder choke is considered the best weapon for hunting rabbits. Alternatively, you can use air rifles for rabbit hunting, although this can be more challenging in open areas.
Avoid Common Mistakes When Hunting Rabbits
When hunting rabbits, it's important to avoid common mistakes like moving too quickly or making too much noise. Rabbits are extremely skittish and can easily be scared away. It's best to move slowly and quietly while scanning the area for any signs of rabbits. Be sure to wear camouflage clothing and stay still when the rabbit is in sight. Stay low to the ground and out of the line of sight of the rabbit so you don't spook them. When you're ready to take a shot, take your time and aim carefully as rabbits can easily dodge out of the way. Finally, remember to stay within your local hunting regulations and know your limits when it comes to taking a shot at a rabbit. By following these tips and avoiding common mistakes, you will be much more successful when hunting rabbits.
Educate Yourself on Rabbit Behavior
Knowing the habits and behavior of rabbits can greatly increase your chances of success when hunting without a gun. Rabbits are generally most active during early morning and late evening hours. During the day they often hide in dense vegetation or burrows. They also tend to stay close to food sources, such as clover, grasses, and other plants. Rabbits are fast runners, so they can be difficult to catch without the help of a hunting dog. Additionally, they're highly alert and sensitive to noise, so hunters must remain quiet and still when stalking them. Rabbits will also use their acute sense of smell to detect predators, so it's important to use camouflage when hunting them. The use of rabbit calls can also be effective for bringing them out into the open.
Learn About Different Types of Rabbit Hunts
Rabbit hunting does not have to involve firearms or even the use of a dog. There are several methods for hunting rabbits that do not involve the use of a gun or a dog. Some of the most popular types of hunting rabbits include throwing implements, walking up rabbits, and using a spear.
Throwing implements, such as rocks or spears, can be an effective way to hunt rabbits. This method requires a great deal of skill and accuracy, as the hunter must be able to accurately calculate the trajectory of the projectile and throw it with enough power to reach the rabbit. It may take some practice to become proficient at this technique, but it can be a rewarding way to hunt.
Walking up rabbits is another way to hunt without the use of a gun or dog. This method involves slowly walking through rabbit habitat, pausing every 10-12 steps for about 20 seconds. You may need to adjust your direction or even double back through the same area as rabbits can sometimes circle back around. The key here is to remain as still and quiet as possible so as not to scare your prey away.
Using a spear is also an option for rabbit hunting without a gun. While this method requires more skill than throwing implements, it can be effective if done correctly. This involves searching for a rabbit's hiding spot and then quickly thrusting the spear into the ground in an effort to capture it. While this requires practice and patience, it can be an effective.
Remain Patient and Focused During the Hunt  
When hunting rabbits, it is important to remain patient and focused. It can take a while to locate a rabbit, and even longer to make the successful shot. Make sure to stay alert and observant, as rabbits can appear and disappear quickly. If you are hunting with a partner, communicate with each other regularly and move as a unit. Keep your rifle or bow ready at all times and take your time finding a good position for an accurate shot. Don't let yourself become distracted or discouraged by your lack of success – rabbit hunting is a game of patience and persistence!
Be Ready to React Quickly
When hunting rabbits, it is important to be ready to react quickly. Rabbits are fast and unpredictable, so you must be prepared to take the shot when they appear. If you wait too long, they may vanish back into their hiding spot. Make sure you practice your shooting skills so you can hit your target quickly and accurately. You should also have the right gear with you, such as a hunting rifle of the appropriate size and style, to ensure you can take the shot when it counts. Additionally, familiarize yourself with the terrain so you know where the rabbits are likely to emerge from, and be prepared to move swiftly if necessary. Being ready to react quickly is essential when hunting rabbits, so take the time to prepare yourself for success.
Understand Your Local Hunting Regulations
Before you begin hunting rabbits, make sure you understand the local hunting regulations in your area. Rabbit hunting can be regulated differently from state to state, so it's important to know what you can and cannot do when it comes to hunting rabbits. You may need to obtain a license or permit depending on where you live, and you should also be aware of any season restrictions in your area. Additionally, make sure to research the bag limits for rabbits in your region, as these can vary significantly. By familiarizing yourself with the local laws and regulations, you'll be able to hunt rabbits safely and responsibly.
Conclusion
Hunting rabbits without a gun is certainly possible, and in some cases it can even be more effective than using a gun. However, keep in mind that no matter what type of weapon you choose to use for rabbit hunting, proper preparation and knowledge of the environment and prey are key to success. Before heading out on a hunt, be sure to educate yourself on the terrain, regulations and types of rabbit hunting, as well as the behavior of rabbits. Additionally, make sure to use an appropriate weapon for the size of the prey, and practice patience, focus and quick reactions while out in the field. With the right tools and knowledge, you can have a successful and enjoyable rabbit hunt without a gun.